Zozoc is a simple to use mobile Application developed with the aim of reducing your SMS costs. Zozoc leverages the internet connection of your mobile (GPRS/Wi-Fi) to send and receive SMS, so you don't have to pay your operator hefty SMS costs or log onto websites on your PC.


Additional Features:
1.Send Free SMS:
Enjoy Unlimited Free SMS chats with your friends and loved ones on Zozoc. Instantly Delivered. Get Free SMS credits for messages to sent to non-Zozoc users upon Login!
2. Save massively on phone bills:
Send Free SMS to a group of Zozoc friends. No Roaming charges. No Blackout on special days/festivals.
3. Over 140 countries supported:
Now communicate freely with your near and dear ones around the globe with Zozoc which now works in over 140 countries (check for your country here). No need to pay your carrier hefty international SMS charges. (Support for USA coming soon)
4. No character Limits:
Now write as much as you want – No half limits to your message lengths. 80 or 500 characters, we will deliver your message without failing.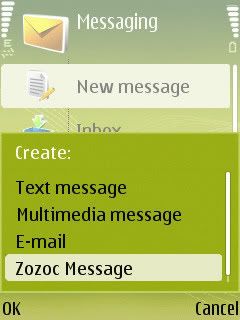 5. Zozoc 'Smart' versions for Symbian and Windows mobile versionsare always on, seamlessly integrated with the default phone's inbox and phonebook. Send and receive messages directly from your inbox with an ability to add contacts from your existing phonebook.
Though in chat service like Ebuddy, Nimbuzz and Yamee users have to be online, Zozoc lets you send and receive messages to your friends even when they are offline.
Requirements:
• One of the supported Java/Symbian/Windows Mobile handsets.
• Activated GPRS/WAP/Wi-Fi connection.
(You might have to bear data charges to your carrier if you have not subscribed to a GPRS plan)

Instructions:
• Download the version for your phone from the Download menu above.
• Install Zozoc on your phone memory (for Symbian/win mobile) or your memory card.
• Ensure that you have a working GPRS/WAP/Wi-FI access point. For more instructions, click here
• Register an account with Zozoc with your phone number. You will receive your password as normal SMS. Use that password to login and use Zozoc.
If you download the Zozoc application from your PC, then please download the JAD version and transfer to your mobile phone.
In case you still cannot access Zozoc, please drop us a line at support@zozoc.in and we will make sure to help you out. Else you can always check out our forums at zozocindia.ning.com/forum
Download Zozoc on any of the browsers be it Opera, Bolt, Opera Mini or your default phone browser.
If you have any server problems related to Opera, please consult http://www.operamini.com/help/connect/ or check the faqs.
Visit Web http://www.getjar.com/mobile/18175/free-sms-worldwide/